January 7th, 2013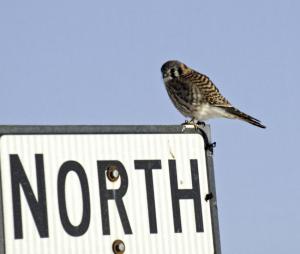 I am going to start blogging as i am now semi-retired and hope to have the time. I am not going to try to commit as to how often but lets just say, daily or weekly! That ought to narrow it down! Sometimes what goes into getting the image is more interesting or adds value to this image itself. Take for instance the photo of the elusive Kestrel Hawk! My wife Toni and i have been trying to get a good photo of one of these hawks without success, but this morning when we were out and about, there it is sitting on top of a highway sign! So small and hardly noticeable yet when spotted it is like a sore thumb.Had my wife back the van up and get the light right to get this photo. They are so colorful and because they are small they are fast flyers and hard to see until you go past them.
This is the firs and i hope you enjoyed the story with the photo. If you subscribe to my blogs you will be given information that others will not get, such as more on location and how i processed a certain image, how i got the image and more on my equipment i use. I am going to try to keep these short and to the point. And the crowd roars! 'To Thy Self Be True"!
December 27th, 2009
Just a little bit about me. I am a avid flyfisher and fly tier. I love fly fishing. I am a fly casting instructor, fly fishing educator and retired fly fishing guide. (I don't guide anymore). The waters flow through me. You will see this influence in my photography. I will soon be posting photographs of trout and other fish. I love to flyfish for all kinds of fish warm water or cold. I also may post some photos of my flies but it is easier to capture a fish with my fly than a good photo of them.
As a flyfisher i had to study what trout eat. I was greatly surprised when i started photographing what they eat. Photography even got me closer to this miniture world of mayflies, stoneflies and midges. I start observing things i never saw as a flyfisher. Very cool stuff such as midges emerging on the ice in March in freezing temputures. Stoneflies emerging from their armor like shuck to become winged adults.Mayfly species i didn't know existed. All this just blew me away and i have spent a great amount of time photographing these events. So i hope you enjoy my photos as i post them knowing now my love for the waters.

December 19th, 2009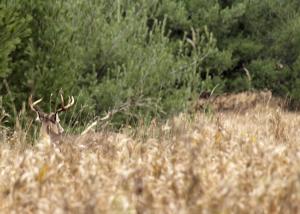 It has finally hit me, it is winter outside! Aghhhhhhhh. It's not that i hate winter itself so much it's the shoveling i hate and the bitter cold.
This is a time for me to gather all my photos and video and go over at least some of them. Now that i am uploading to fine art america this is going to help greatly to encourage me to be vigilante. So stay in touch as i will be uploading photos given the free time.
December 17th, 2009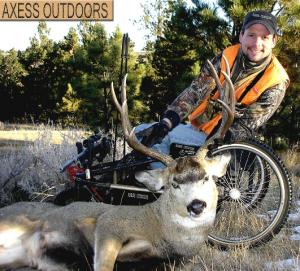 I am now at task of searching my huge data base for photos i would like to post on Fine Art America. My data base is huge. Alot of my photos are in raw formate and have to be coverted. Then i bring the photo to photoshop and crop and do levels and curves adjustments. Then i make any other needed adjustment if needed. It is at this time i decide if this is a photo that pops. For instance, interesting subject matter, well composed, in focus no blown ou areas or to dark, etc. .
The photo i posted in this blog is of my brother George. You can visit his web site at Axess Outdoors.
December 13th, 2009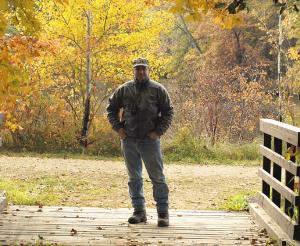 I ended up working on a project for my brother George editing video. He and my nephew John filmed George on a Mule deer hunt in central Montana. My brother builds, designs and uses a off road wheel chair for outdoor purposes. The name of his company is Axess Outdoors. Anyway they shot footage of the hunt and i'm editing for them. What a great privialge! Keeping me busy. Until next time, take care.
December 8th, 2009
Yesterday i sold my first print, Woodland Trail! I'm just gidy. Wow this is so cool i love it. I'm speachless!
December 6th, 2009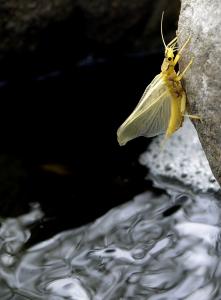 I have posted a few photos of stone flies today. A few you say! I have a vast collection of stone flies in varios stages of emergance from underwater nymph to emerging to matting and laying eggs on the surface of the water. I have different types and sizes as well. Each type brings adjustments to getting the photo. In March, the early little black stone crawls out of the icy river making it's way above the ice and across snow to find a sutable location to emerge from it's armor like nymphl shuck. Many times the outside air temperature is below freezing. I have been photographing stone flies in these conditions only to have them die! The larger stone flies start to emerge when we start to get warm weather at night. To find these large stone flies i look for their nymphl shucks attatched to the rocks. Usually this is in faster water. This is why there shuck is so strong as they live in fast well oxygenated water.
December 3rd, 2009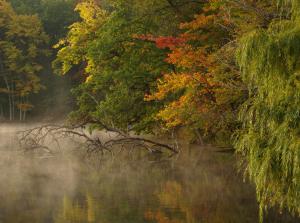 I didn't want to use the four letter word work so i choose busy instead. I have started the task of going through my raw files and choosing or deleting photos. If they are chosen l covert them into tif. files and resize them as large as i can. This tif will be about 156 mb. Huge file. I then bring this into photoshop and work my magic. I then save it as a jpeg which is about 28 mbs. I am very passionate about my photography and i love photoshop. So back to----- .
December 1st, 2009
Welcome to today. Some days i'm not able to do what i would like to be doing. So maybe some reflections of past shoots might help. There's not even snow on the ground yet and i have cabin fever! Thinking back to this last March was remarkable in the qaulity of the photos i was able to take of emerging Stoneflies. You should be seeing those photos and more in upcomming weeks ,stay tuned.